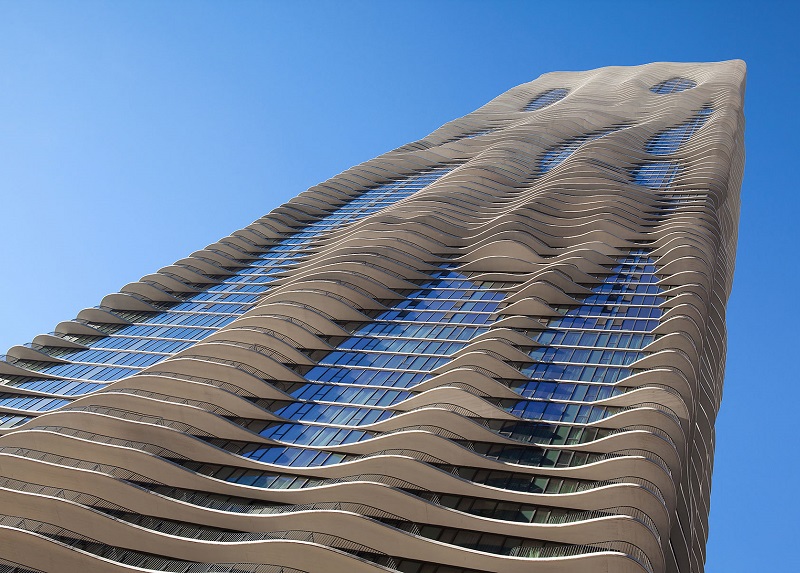 ---
Aqua Tower
---
225 N. Columbus Dr, Chicago, IL 60601
Have you been searching for the ultimate downtown Chicago condo experience? If you're in the mood for a major lifestyle upgrade, you'll find it here at the Aqua Tower. Located at 225 N. Columbus in downtown Chicago, this is the ultimate high rise experience. You have 87 stories worth of high value property to choose from.

These new luxury condos contain all of the latest modern features and amenities that you have been waiting your whole life to enjoy.
About Aqua Tower
You'll have your pick of a wide range of conveniences, including the following:
• Unique floor plans that have been specially designed to increase access and convenience
• Large and spacious balconies that allow you to relax, socialize, and enjoy gorgeous views of downtown Chicago and the surrounding area
• Large-scale windows that reach from the floor to the ceiling
There's More to Aqua Than Meets the Eye
Once you are shown one of these amazing new condos, you'll understand why we consider this such a prestigious downtown Chicago property. But the story does not end there. Residents at Aqua Tower are also free to take full advantage of a wide range of extra amenities that include, but are in no way limited to, the following:
• A full-sized, heated swimming pool
• A fully staffed fitness center that is loaded with all of the latest and best equipment
• An indoor spa
• An exclusive fine dining establishment located directly in the building
• A fully modern business center
• Room service
• Concierge
• Plenty of parking for residents and visitors alike
Get Ready to Enjoy a Whole New Definition of Luxury Living
If you are ready to enjoy a new level of luxury in your life, Aqua Tower is the place to find it.
The builders have gone out of their way to incorporate every possible luxury and amenity. This means that the building itself fully modern and designed to meet all current (and many future) safety and energy efficiency standards.
It also means that each and every unit is stuffed to the gills with a wide range of conveniences that will living here a luxury experience to treasure. Here are a few of the most popular amenities that residents are particularly pleased with:
• High quality stainless steel kitchen and bath fixtures
• Specially and spaciously designed kitchen islands
• Brand new high quality granite counter-tops
• Modern hardwood flooring in all of the major living areas
• In-unit laundry facilities so you never need to leave your condo to get your washing done
• Tons of closet space
Living in Aqua Tower Puts You in the Heart of Downtown Chicago
You should also be aware that living in Aqua Tower will put you directly in the heart of downtown Chicago. This means you will be in close proximity to some of the finest restaurants, parks, museums, and other cultural and entertainment attractions that downtown Chicago has to offer. From Millennium Park to the Magnificent Mile, you'll be able to sample it all.
Contact Jeanne Keating for More Info on This Property
If you are interested in learning more about Aqua Tower, you can get in touch with Jeanne Keating for more information. Ms. Keating is an experienced and fully qualified Chicago realtor whose specialty is helping people find luxury properties in the downtown area. Contact her today to get expert aid and counsel that will help you find your perfect property in downtown Chicago.

Sorry we are experiencing system issues. Please try again.


Endless Possibilities, Just a Phone Call Away