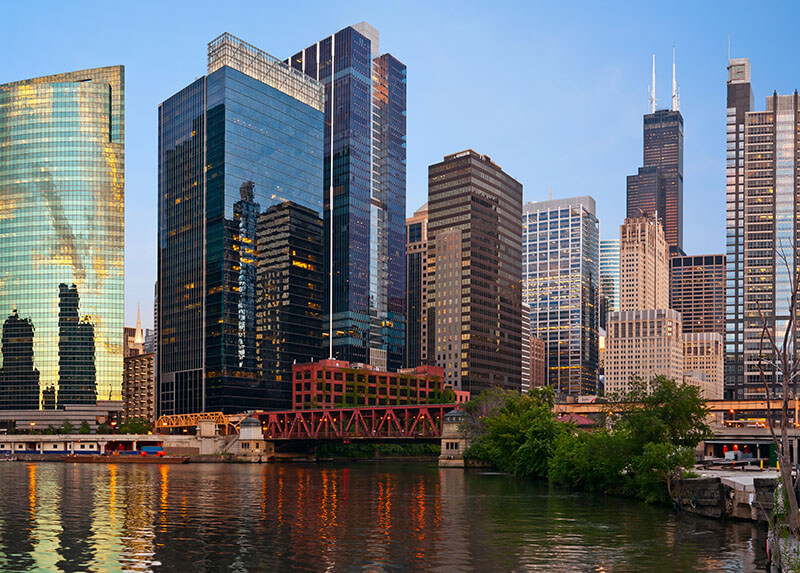 ---
One Bennett Park
---
514 N. Peshtigo Ct,
Chicago, IL 60611
When it comes to luxury condos in the heart of downtown Chicago, one stands out. That one is One Bennett Park.

Located on 514. N. Peshtigo Ct., this high rise building has long been renowned as one of the very finest in all of the city. If you have been searching for luxury accommodations in Chicago, this is the place you need to see.
About One Bennett Park Tower
One Bennett Park is set smack dab in the midst of Chicago's famous downtown area. Not only will you have one of the finest views of the city, the river, and the surrounding area, you will also have access to a host of amenities. Everywhere you look, you can find top level shopping centers, restaurants, and plenty of night life action.
One Bennett Park is located strategically in the center of the city. It is surrounded by the waterfront as well as lush gardens that you can walk through at your leisure. The building itself has been designed by the world-famous architectural firm of Robert A.M. Stern. It is not only one of the most luxurious but also the finest looking buildings in all of Chicago.
You will find a wide host of amenities both within and without the property. You can enjoy the huge outdoor pool and cabana area while relaxing from a workout at our 7,000 square foot spa and fitness center.
Inside the condos themselves, you will find every available modern luxury to ease your passage to the high life.
Our available units range from a 940 square foot one bedroom condo all the way up to a sprawling 3,323 4 bedroom unit. No matter what size you are looking for, we can work with you to find the perfect fit. Each unit is fitted out with a wide variety of amenities, including Wi-Fi, a barbecue grill, a full sized balcony, and many more. Get in touch with us to view the full list of amenities that we can make available to you.
If you are ready to make a serious upgrade to the quality of your life, let us know. We can get you the very best deal on this or any other location that you choose in downtown Chicago.
Get in touch with us today and we will be happy to share with you all of the details concerning how you can make the move to a new life of luxury.
One Bennett Park Tower Listings

Sorry we are experiencing system issues. Please try again.


Endless Possibilities, Just a Phone Call Away